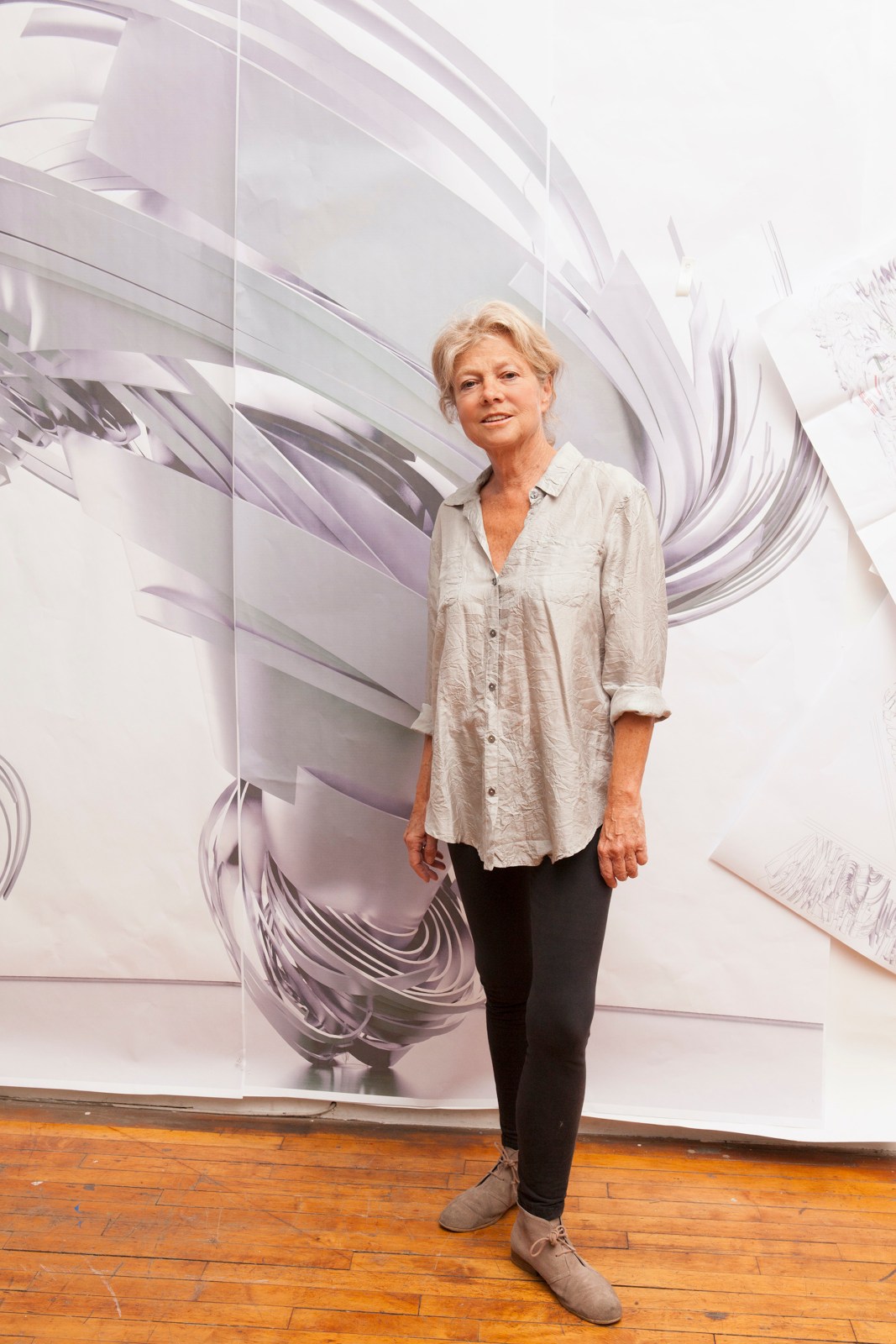 Alice Aycock has lived in New York City since 1968. She received a B.A. from Douglass College and an M.A. from Hunter College. She was represented by the John Weber Gallery in New York City from 1976 through 2001 and has exhibited in major museums and galleries nationally as well as in Europe and Japan. Currently she is represented by Marlborough Gallery, New York and Galerie Thomas Schulte, Berlin. She had her first solo exhibition with Marlborough in the fall of 2017, and subsequently in 2020, 2021 and 2023. She has had multiple solo exhibitions with Galerie Thomas Schulte, most recently in 2019.
She has had four major retrospectives. Works from 1971 through 2019 were exhibited at the Sprengel Museum, Hannover, Germany in 2019, and a comprehensive catalog was published. In 2013, a retrospective of her drawings and small sculptures was exhibited at the Parrish Art Museum in Water Mill, New York coinciding with the Grey Art Gallery in New York City. The retrospective traveled to the Art, Design & Architecture Museum at the University of California, Santa Barbara and the Santa Barbara Museum of Art in 2014. A fully illustrated catalog, Some Stories are Worth Repeating, accompanied the retrospective. She received the International Association of Art Critics Award for this exhibition. In 1990, her second retrospective entitled "Complex Visions" was organized by the Storm King Art Center in Mountainville, NY. The first was organized by the Wurttembergischer Kunstverein in Stuttgart in 1983 and traveled to Kolnischer Kunstverein Koln; Sculpturenmuseum Glaskasten, Marl; Haags Gemeentemuseum, Den Haag; Kunstmuseum Luzern.
In 2014, a series of seven sculptures were installed on the Park Avenue Malls in New York City, entitled Park Avenue Paper Chase, in collaboration with Galerie Thomas Schulte, Berlin. Three of the sculptures traveled to the Chicago Lakefront in August 2014. Two other works from this series were exhibited in "Beyond Limits: Sotheby's at Chatsworth" at the Chatsworth House, Derbyshire, UK in 2013/2014. In 2015, Hoop-La was exhibited in a large outdoor sculpture exhibition in Bad Homburg, Germany. In the summer of 2020, six large-scale sculptures from the Turbulence Series were installed in an outdoor solo exhibition at the Royal Djurgården in Stockholm, Sweden. Hoop-La was acquired and permanently installed there.
Aycock's early works were semi-architectural sited works, in some instances involving reshaping the earth, such as A Simple Network of Underground Wells and Tunnels, permanently reconstructed in 2012 at Omi International Arts Center, Ghent, NY, and Low Building with Dirt Roof (For Mary), rebuilt at Storm King Art Center in 2010. Three-fold Manifestation II (1987), which was part of her 1990 retrospective, is permanently on view at Storm King Art Center. Clay #2, first executed in 1971, was reproduced for "Ends of the Earth: Art of the Land to 1974," a comprehensive survey of the period held in 2012 at LAMOCA and traveled to Haus der Kunst, Munich.
Aycock's public sculptures can be found in many major cities in the U.S and around the world. Some of her public commissions include East River Roundabout (1995/2014) for the East River Park Pavilion at 60th Street in New York City, associated architects Quennell Rothschild Associates and HOK/TCA. In 1996 she inaugurated a work for the San Francisco Public Library– a functional and fantasy spiral stairs, and a suspended piece entitled Cyclone Fragment. The work required close collaboration with Pei Cobb Freed and Partners. Concurrently, she opened a suspended sculpture for the Sacramento Convention Center in California. Star Sifter, a large sculpture for the rotunda of the Terminal One at JFK International Airport, was completed in 1998 and re-sited above the entrance to the security zone in 2013. Other public installations include a suspended work for the Philadelphia International Airport (2001); GSA commission for the entrance to the Fallon Building, Baltimore (2004); Strange Attractor for Kansas City, Kansas City International Airport (2007); The Uncertainty of Ground State Fluctuations, Clayton, Missouri (2007); Ghost Ballet for the East Bank Machineworks, Nashville, Tennessee (2008); and The Game of Flyers Part Two, Washington Dulles International Airport (2012). In 2016, she completed a large-scale outdoor public artwork in Coral Gables, FL and an 80-foot long entrance sculpture for the new MGM National Harbor, MD. She installed a sculpture for the lobby of 50 West, New York, NY in July 2017. A Series of Whirlpool Field Manoeuvres for Pier 27, a permanent largescale installation 25 feet tall and approximately 300 feet long, was inaugurated on the Toronto waterfront in the fall of 2017, as well as an entry sculpture for the same complex at Pier 27 in 2021. In 2018, a sculpture was installed at the entrance to the new Capital One headquarters in McLean, VA. A roundabout sculpture was installed in 2019 at the Port Everglades Cruise Terminal and a 27 foot tall work for NYU's campus in Abu Dhabi, U.A.E. In 2020, an outdoor work was installed for a residential complex in Jingu Gaien, Tokyo, Japan. Most recently in 2022, an entry work to Des Moines International Airport entitled Liftoff was completed.
Her large-scale installations can be found at numerous universities including, The Miraculating Machine in the Garden at Rutgers University (1982); The Solar Wind at Roanoke College, in Salem, VA (1983/2010); The Islands of the Rose Apple Tree… at Western Washington State University, Bellingham (1987); Summaries of Arithmetic… at the entrance to the Engineering Department at the University of Michigan in Ann Arbor (1992); a Waterworks Installation for the University of Nebraska in Omaha (1993); Maze 2000 for University of South Florida, Tampa (2002); A Startling Whirlwind of Opportunity, University of Tennessee, Knoxville (2009); Accelerations, Western Connecticut State University, Danbury (2010); The Butterfly Effect at Michigan State University (2012); Super Twister for University of Cincinnati (2013); and Texas Twister for Texas State University (2018).
MIT Press published the artist's first hardcover monograph in 2005, entitled Alice Aycock, Sculpture and Projects, authored by Robert Hobbs. She has received numerous awards including four National Endowment for the Arts Fellowships. Aycock was a member of the New York City Design Commission from 2003 to 2012 and she has also been appointed to the GSA's National Register of Peer Professionals. She received the Americans for the Arts Public Art Award for her 2008 artwork in Downtown Nashville, Tennessee. Aycock has taught at numerous colleges and universities including Yale University (1988-92) and as the Director of Graduate Sculpture Studies (1991-92). She has been teaching at the School of Visual Arts in NY since 1991 and was a visiting artist Maryland Institute College of Art in Baltimore from 2010 to 2014. The International Sculpture Center presented her with a Lifetime Achievement Award in Contemporary Sculpture in 2018, and she received an Academy of the Arts Achievement Award in Visual Arts from Guild Hall in East Hampton, NY in March 2019.
Her works can be found in numerous collections including the Museum of Modern Art, the Whitney Museum, the Brooklyn Museum, the LA County Museum, the National Gallery of Art, the Sheldon, Storm King Art Center, the Louis Vuitton Foundation, and the Sprengel Museum in Hannover, Germany. She exhibited at the Venice Biennale, Documenta VI and VIII and the Whitney Biennial.