"How do we carry weight? This action—carrying, silently moving through space, sometimes unnoticed—is how we exist."

— Le'Andra LeSeur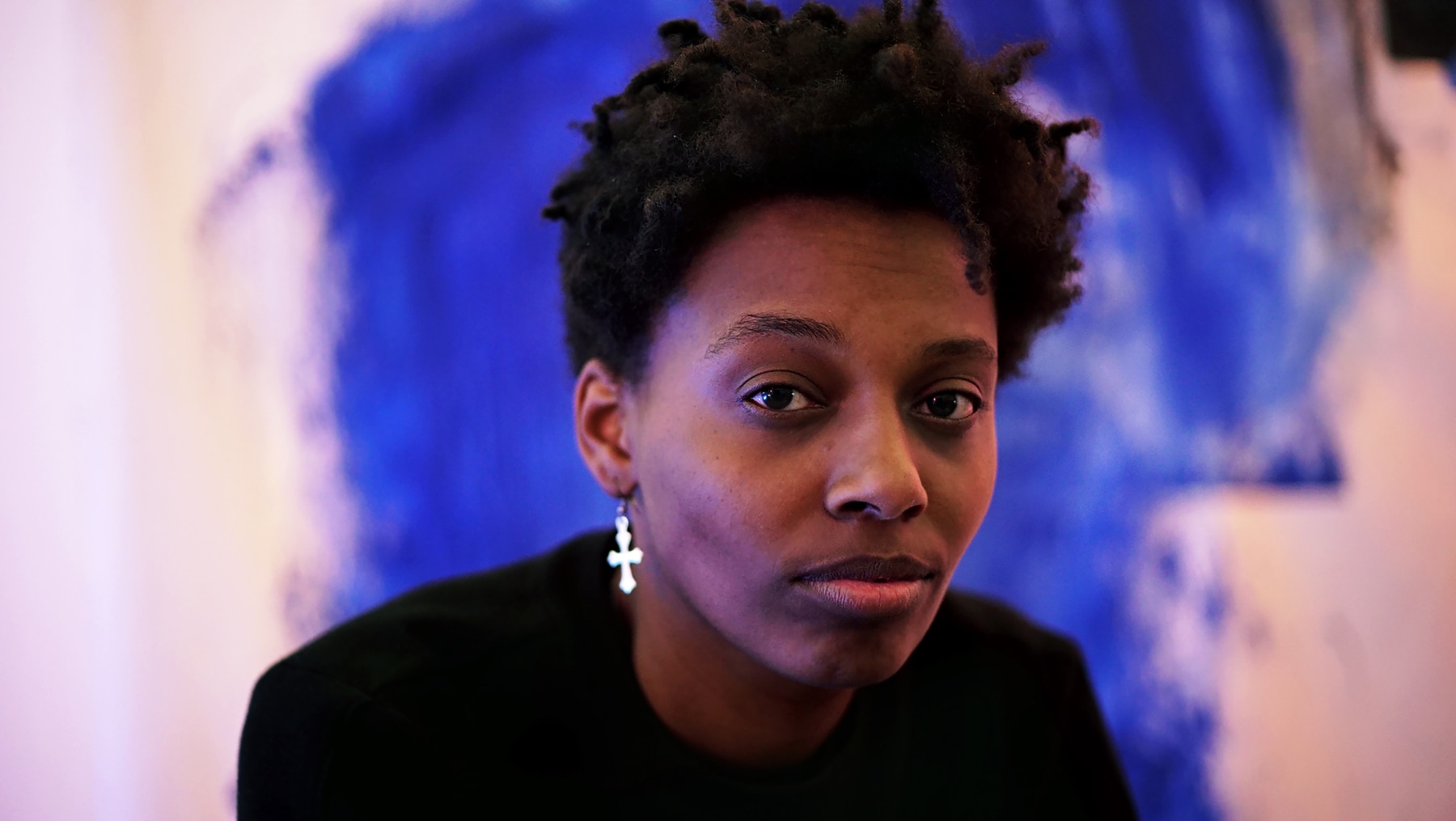 Le'Andra LeSeur is a multidisciplinary artist whose work encompasses a range of media including video, installation, photography, painting, and performance. LeSeur's body of work, a celebration of Blackness, queerness, and femininity, seeks to dismantle systems of power and achieve transcendence and liberation through perseverance. Through the insertion of her body and voice into her work, she provides her audience with an opportunity to contemplate themes such as identity, family, Black grief and joy, the experience of invisibility, and what it means to take up space as a queer Black woman—a rejection of the stereotypes which attempt to push these identities to the margins.

LeSeur appeared in the 2021 Atlanta Biennale with a "standout" 6-channel video installation, there are other hues of blue (2019/2021). Hanging screens display blue fields of color pulled from a Facebook Live recording by 21-year-old Sean Reed, who was killed by police in 2020. Another display resting face-up on the floor loops a video of LeSeur in silhouette, reading excerpts from notes she wrote to herself over the course of the past three years. LeSeur explains: "There is so much violence in the world, so I've been thinking about the opposite of violence. We have to think about what happens after. Where are the small moments of tenderness and care? And I have been thinking about how beautiful it is to be alive and to carry out that potential for someone else who, tragically, can't do it anymore."

LeSeur's Rhythm Studies (2019) series of paintings represent a liberation from thought as movement overtakes her body. Each work is the result of an improvisational performance set to a jazz piece, the canvas transforming into a remnant of internal movement and freedom.

LeSeur's neon installation works are an exploration of the power of language. In Libérer (2019), an illuminated inscription hangs above a reflecting pool emerging from the soil, inviting, in LeSeur's words, "a self reflection within in the viewer." The French word libérer, meaning release, asks of its audience: "what am I releasing as I emerge into my new self?"

Two of LeSeur's works were featured in Marlborough's 2021 exhibition, Wild at Heart. between me and the rest of the land… was an installation comprised of a monolith of black cinder blocks accompanied by the raw captured sound of LeSeur's breathing while arranging the structure. Breathing was a durational piece performed over the course of ten consecutive days. Each day, LeSeur would stand atop a cinder block for two hours and recite words from a written one-page passage. This work explored physical struggles and ascendency through feats of endurance and the disruption of space.

LeSeur has received several notable awards including the Leslie-Lohman Museum Artists Fellowship (2019), the Time-Based Medium Prize as well as the Juried Grand Prize at Artprize 10 (2018). LeSeur recently appeared in conversation with Marilyn Minter at the Brooklyn Museum, presented by the Tory Burch Foundation and has lectured at RISD Museum of Art, Providence, RI, and SCAD Atlanta, among others. Her work has been shown in solo and group exhibitions at The Shed, New York, NY; Marlborough, New York, NY; Atlanta Contemporary, Atlanta, GA; A.I.R. Gallery, Brooklyn, NY; Assembly Room, New York, NY; Microscope Gallery, Brooklyn, NY; Anacostia Art Center, Washington, D.C.; SITELAB, Grand Rapids, MI; Arnika Dawkins, Atlanta, GA; and others. Residences include NARS Foundation, Marble House Project, and MASS MoCA.