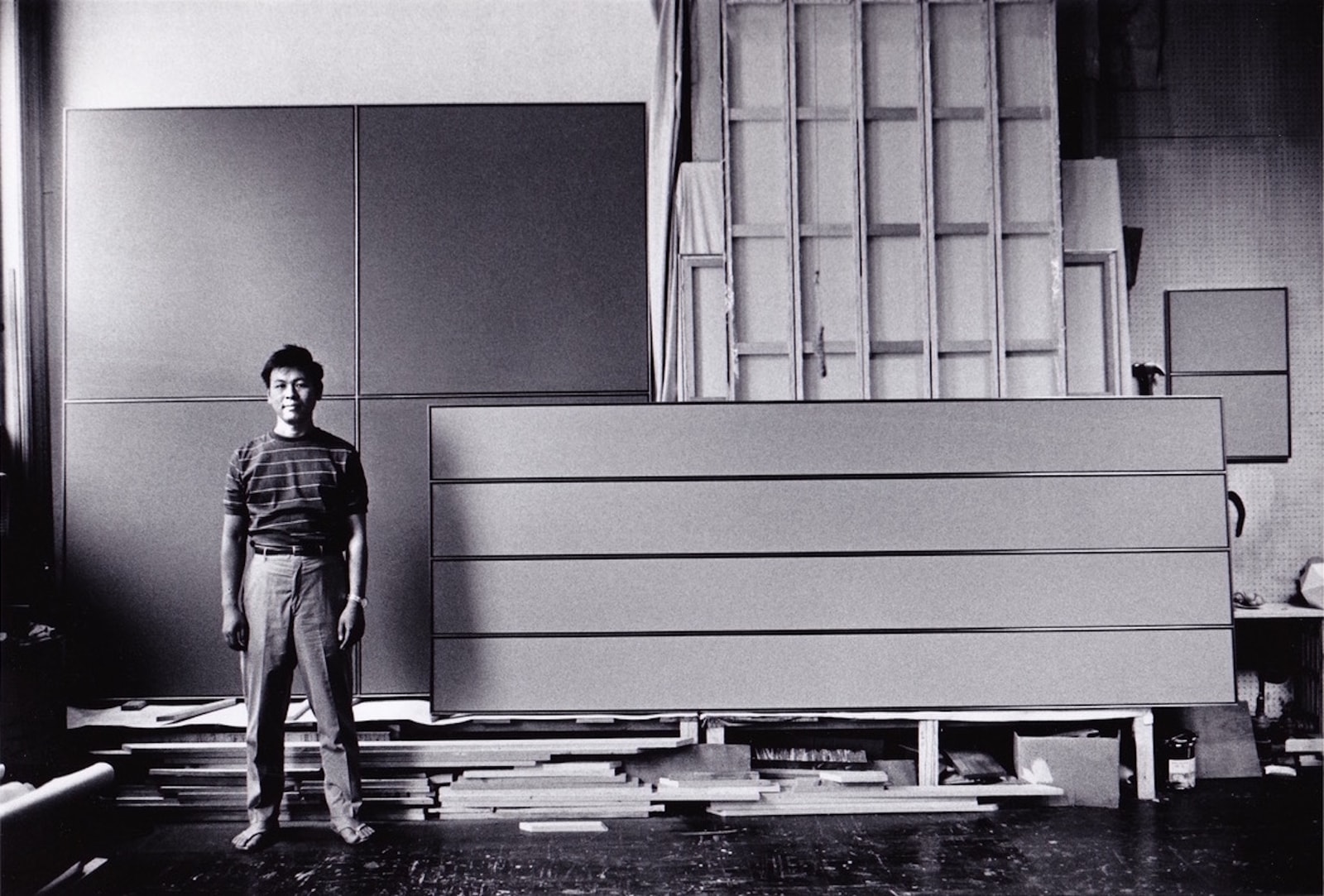 Tadaaki Kuwayama was born in 1932 in the industrial port city of Nagoya, Japan. After graduating from the Japanese Painting course at Tokyo University of the Arts, Kuwayama found himself disinterested in the traditional nihonga painting and contemporary modes of Japanese art that he had studied. Fascinated by the burgeoning abstract painting scene in the United States, Kuwayama moved to New York City in 1958 with his wife and fellow artist, Rakuko Naito. He soon began to experiment with alternative types of pigments, developing his own form of minimalism by combining a reductivist style with traditional methods of Japanese painting.
Once in New York, Kuwayama developed a series of signature monochromatic works bisected by thin strips of aluminum, as well as vibrantly colored two-toned compositions rendered in contrasting horizontal and vertical planes. In 1961, he held his first solo exhibition[AB3] in New York City at the storied Green Gallery, run by premier art dealer Richard Bellamy[AB4] . Following this seminal exhibition, the artist continued to refine his practice, experimenting with proprietary metallic paint, made by mixing acrylic with aluminum powder. Kuwayama also began investigations into three-dimensionality, creating floor sculptures comprised of wood and Japanese Torinoko paper which aim to alter the viewer's perception of space. Over time, the artist, still aiming to emphasize pure color and form, adopted hard and shiny substrates, such as Bakelite and titanium. Despite the variations in material, Kuwayama's oeuvre reflects a pursuit towards what the artist called "a pure art," one that achieves a type of "nothingness," which evokes an inherently spiritual experience.
Tadaaki Kuwayama has been featured in numerous solo and group exhibitions. Among them are those held at The National Museum of Art, Osaka, Japan; Nagoya City Art Museum, Aichi, Japan; Rupertinum Museum, Salzburg, Austria; Stedelijk Museum, Amsterdam, The Netherlands; Albright-Knox Art Gallery, Buffalo, New York; Solomon R. Guggenheim Museum, New York, New York (including the renowned 1966 exhibition, Systemic Painting); San Francisco Museum of Modern Art, San Francisco, California; and Carnegie Museum of Art, Pittsburgh, Pennsylvania. His work may be found in museum collections worldwide, including the Solomon R. Guggenheim Museum, New York, New York; The Museum of Modern Art, New York, New York; Buffalo AKG Art Museum, Buffalo, New York; Nationalgalerie, Berlin, Germany; The Foundation for Constructivist, Concrete, and Conceptual Art, Zurich, Switzerland; The National Museum of Modern Art, Tokyo, Japan; The National Museum of Art, Osaka, Japan; Louisiana Museum of Modern Art, Humblebaek, Denmark; Seattle Art Museum, Seattle, Washington; The Aldrich Museum of Contemporary Art, Ridgefield, Connecticut; The Chrysler Museum, Norfolk, Virginia; and Yale University Art Gallery, New Haven, Connecticut; among many others.