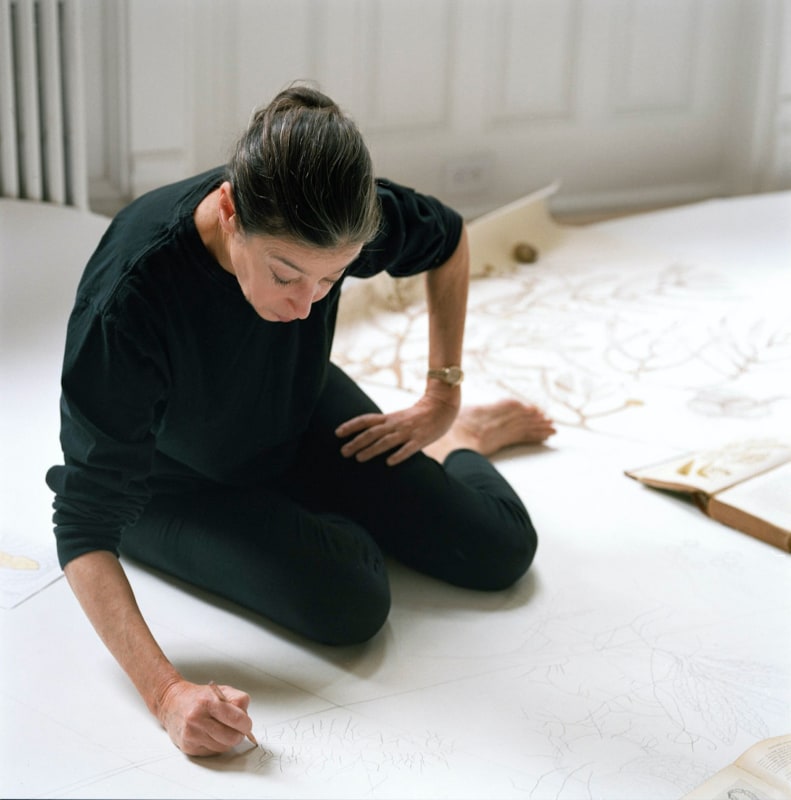 Michele Oka Doner is an internationally renowned artist whose career spans over five decades. The breadth of her artistic production encompasses sculpture, design objects, furniture, jewelry, public art and video installations. Oka Doner's work is fueled by a lifelong study and appreciation of the natural world, from which she derives her formal vocabulary. Her work encompasses materials including glass, bronze and silver and in a variety of scales she mirrors the world around her – from the small and intimate to the large and magnificent.
Oka Doner's prodigious body of work includes sculpture, public art, drawings, prints, artist books, functional objects created in media that include bronze, silver, gold, terrazzo, porcelain, hand made paper and now film. Her artwork is represented in numerous prominent art museums and private collections in the United States, Europe, and the Middle East, including: The Metropolitan Museum of Art, New York, New York; The Whitney Museum of American Art, New York, New York; The Art Institute of Chicago, Chicago, Illinois; The Dallas Museum of Art, Dallas, Texas; The St. Louis Art Museum, St. Louis, Missouri; The Virginia Museum of Fine Arts, Richmond, Virginia; The Cooper-Hewitt National Design Museum, New York, New York; The Princeton University Art Museum, Princeton, New Jersey; The Detroit Institute of Arts, Detroit, Michigan; The University of Michigan Museum of Art, Ann Arbor, Michigan; Pérez Art Museum Miami, Miami, Florida; The Yale University Art Gallery, New Haven, Connecticut, and the Musée Décoratifs, Louvre, Paris, France.
Oka Doner is also renowned for creating over thirty-five public art installations throughout the U.S. and Europe, including A Walk on the Beach at the Miami International Airport, Radiant Site at Herald Square, New York, New York; Flight at the Ronald Reagan Washington National Airport, Arlington, Virginia; Forces of Nature, Port Everglades, Ft. Lauderdale, Florida; SoulCatchers, Nymphenburg, Munich, Germany; as well as installations at Federal courthouses in Greenville, Tennessee, Gulfport, Mississippi and Laredo, Texas; the Criminal Justice Center in Philadelphia, Pennsylvania; public libraries in Sacramento, California, Evanston, Illinois and Toms River, New Jersey, and The Museum of Natural History in New York, New York.
Graduate of the University of Michigan with a B.S.D. and M.F.A. in Fine Art, she has lectured widely and received many awards, including the Award of Excellence from the United Nations Society of Writers and Artists, the Legends Award, Pratt Institute, and grants from the New York State Council of the Arts and the Kress Foundation.